Engage in activities to preserve the irreplaceable environment for future generations.
Direction of Initiatives
Engage in environmental conservation activities in cooperation with local communities.
Promote nature conservation activities, including the protection of forests and water resources.
Propose environmentally friendly products and lifestyles.
The "Think about what we can do for the future" campaign has been held twice a year since 2019 to focus on issues such as environmental protection, regional revitalization, and inheritance of culture and traditions. Unfortunately, it was canceled in May 2020 due to the State of Emergency Declaration, but in October it was held under the theme of "Awareness of GOOD in familiar places". We proposed eco-friendly actions that can be easily incorporated into everyday life.

In addition, in March 2021, in recognition of our ongoing efforts to date, we received the newly established Sustainable Award at the 13th (FY2020) Department Store Awards by Senken Shimbun and were selected as the first store to receive the prestigious award.
In cooperation with Maniwa City in Okayama Prefecture, Hankyu Hanshin Department Store is providing branding support for GREENable HIRUZEN, a tourism and culture center that opened on July 15, 2021, in Hiruzen Highland, where visitors can experience sustainability.

Taking advantage of this connection, the venue decorations for GOOD FOR THE FUTURE used sustainable fixtures made of cypress from the forests of Maniwa City, Okayama Prefecture, which can be dismantled and stored after the event for repeated use. We are working to minimize the burden on the environment as much as possible.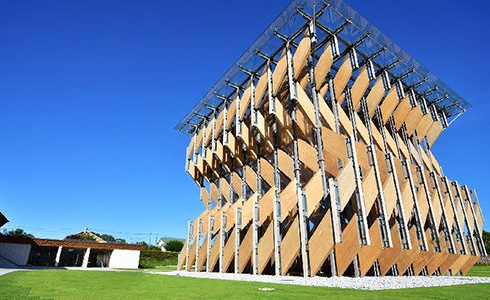 The Souq Company Co., Ltd. has focused on the promotion of forest circulation. First, Osaka Prefecture and Umeda Souq collaborated with wood craft artists to plan the commercialization of local wood products, which started being sold at Umeda Souq from May 2021.

At the same time, the Osaka Prefectural Government, fixture manufacturers, and the Souq Company collaborated to study the creation of a system for using interior materials and fixtures in retail to accelerate the circulation of forests. We have developed a reusable construction-type lease fixture using locally thinned wood and realized it at Hankyu Umeda Main Store in October 2021.

In the future, we will continue to make full-scale efforts to create products and systems that contribute to forest recycling.